Shopping Basket
Your Basket is Empty
There was an error with PayPal
Click here to try again
Thank you for your business!
You should receive an order confirmation from Paypal shortly.
Exit Shopping Basket
OUTLAW KATE: UP TO NO GOOD* SINCE 1965
| | |
| --- | --- |
| Posted on 31 October, 2012 at 17:05 | |
originally posted by Katherine at 23rd August 2012 at 19:28
Epilogue:
The most popular question at the finish line for a few days after was "So would you do it again?" and as far as I know, most everyone answered "No way!" But perhaps it's like having a baby – you forget the pain after a while, relishing the good parts and forgetting the bad. I can honestly say it's one of the most difficult things I have ever done. I will never forget some of the things I experienced, both good and bad, and some of the people I have met (good and bad). I made some incredible new friends; I learned incredible things about myself (I treasured the adventure, disliked the race aspect - yes I realize it was a race but we had 10 days - too much of life speeds by anyways); I surprised myself with how much I honestly liked most of the horses I rode. The ones that you clicked with gave you their heart and soul; the ones you didn't… gave you something else entirely, but that's how it goes sometimes eh?
I rode the race in the manner I chose, with no regrets other than I would have preferred to ride the race in the 10 days and receive an official placing, as for most of us who were disqualified (and me in particular) it would have been completely doable.
I marvelled at the logistics of even attempting to hold a race such as this and wondered if any of the Adventurists had any hair left. I remembered the excellent vet, medic and field staff that I had encountered along the way. 
I will never forget the Mongolian people, and their incredible hospitality - putting up with us crazy foreigners, brewing up their wonderful huge cauldrons of tea, breaking out the vodka and the most excellent yogurt I've ever tasted.  I would go back in a minute and spend more time amongst them.  I think I'd take a sleeping pad next time though...
I was humbled to be among so many excellent riders; admired a few for their absolute hard-core courage, applauded whole-heartedly those who rode each leg and had an official placing.  I will never forget those who I spent so much time with, who were disqualified along with me but continued on anyways, having the time of their lives.  I have so much respect for each and every one of my fellow "back fielders."
And the stories...I laughed at Mattias who found himself on the very last leg with a horse that wouldn't move, ended up walking into Finish Camp at 4:30am (incurring a 7.5 hour penalty for moving past 9pm) - what a story to end on.   And the people who rode into Finish Camp with excruciating injuries - Sonja and Simon, only a couple of who rode many, many kilometres with cracked ribs or other broken bones...And I cringed at some who rolled into Finish Camp and proceeded to party like it was 1999. Oh those were the days...
The trip back to UB was something else again. Not being one to linger around when the day is done and the job is over, I headed back to UB with Simon, Eveline and Wendy. If you've never experienced driving in Mongolia, perhaps save yourself the grey hair. We seriously thought at one point we were going to die in a rollover in some vintage Russian van; the doors on the thing did not open from the outside and the windows did not close (perhaps to save from inadvertently gassing the passengers – I think the engine exhaust was piped directly into the cab.) "Shoulder check before passing" is not in their vocabulary; nor is "Don't pass on the outside curve going up a hill." How wonderful and fortuitous to finally make it to UB and to sleep in a real bed and to shower in hot water! We ate pizza! And fries! And drank alcohol that didn't originate in a horse! We truly felt blessed.
As far as I know, Ronald is doing okay, and last I talked with him was awaiting the permission to leave the hospital and travel back to the Netherlands. He is one lucky man, but I'm not sure even a trooper like him would decide to ride the Derby one more time.
I am back in Canada, my lip has healed, I have nothing worse than stinky clothing to deal with, and feel like I am the luckiest woman in the world. I survived the Derby (or most of it), didn't lose my lucky sleeping bag...life is good. That is all.
Epilogue-epilogue: Ronald says he has already signed up for the 2013 edition of the Derby - look out folks, third time lucky.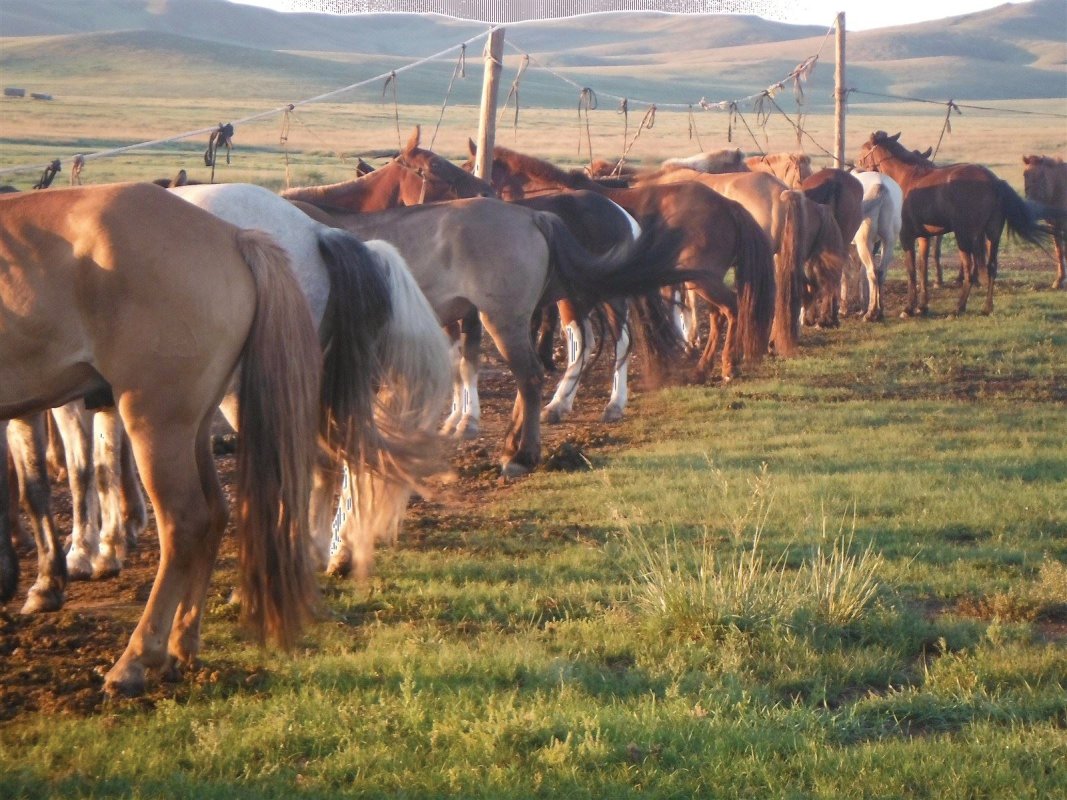 The end...or many ends :P
Categories: None
/